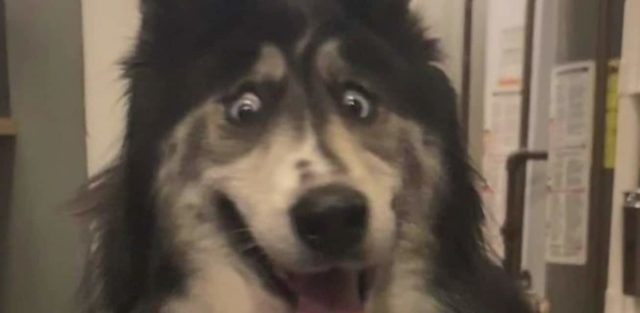 Breeders are where you can find the best dog breeds with good lineages. However, these breeders sometimes don't care about the dogs that are in their care and only see them as the product that they have to sell. When something isn't perfect about a dog they breed, they often bring them to shelters since they only care for the dogs they can profit from. This is what happened to a Siberian Husky from New Jersey who captured thousands of hearts through social media.
Goofy dog
A Siberian Husky named Jubilee was left at the Husky House shelter in New Jersey when she was two years old by some breeders. Their reason for this was that the pooch looked 'weird' and that they couldn't sell her. The pooch was born with an eyelid deformity that makes her look surprised all the time. Aside from her appearance, there was nothing physically wrong with the doggie at all.
The shelter took the doggie in with open arms and took to social media in hopes of finding Jubilee her forever home. Little did the shelter staff know that the story of the pooch they took in would go viral online.
Online sensation
After the Husky House posted pictures and the story of Jubilee on their Facebook page, thousands of people were touched by her story. They even commented on how beautiful the doggo was and how special she was to them.
All that attention that Jubilee got because of the shelter's posts on social media was nothing compared to finding the dog the best family for her. There were over a hundred applicants who wanted to adopt the adorable Husky, and through all that, the shelter was finally able to place the pooch with the best one. This goes to show that different doesn't mean weird, and dogs like these shouldn't be tossed aside because of this.
Check out Jubilee's story here:
Source: Youtube | WATE 6 On Your Side